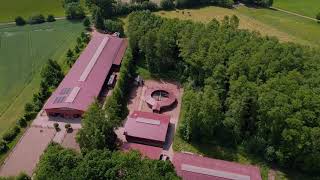 Hey, hi, hello! Welcome to FEHMBUSCH.
A life with horses
- where the focus is on the well-being of the animals -
this is reality at HOF FEHMBUSCH
At the modern stud, Andrea Engeler-Bading and her team have been breeding horses of renowned quality for the international market for many years.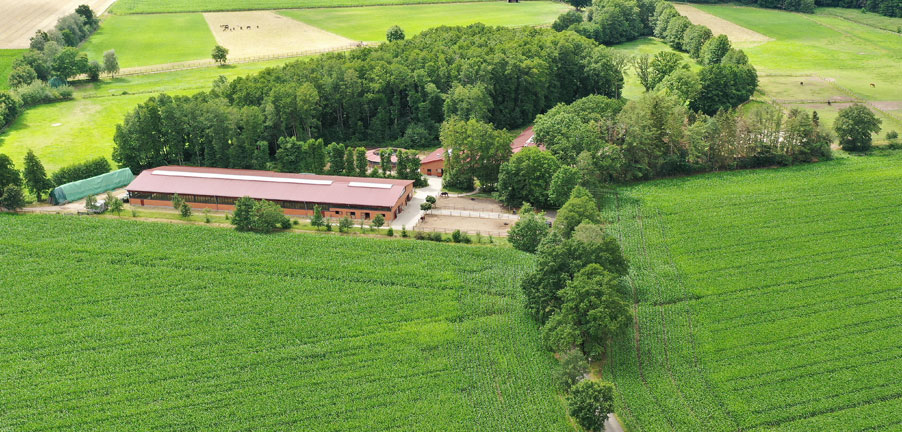 The horses for sale offered on this website all come with a pedigree spanning four generations as well as a comprehensive report. Foals bred here at our own stud as well as customers' horses at livery are trained with dedicated passion and great expertise by the successful dressage rider.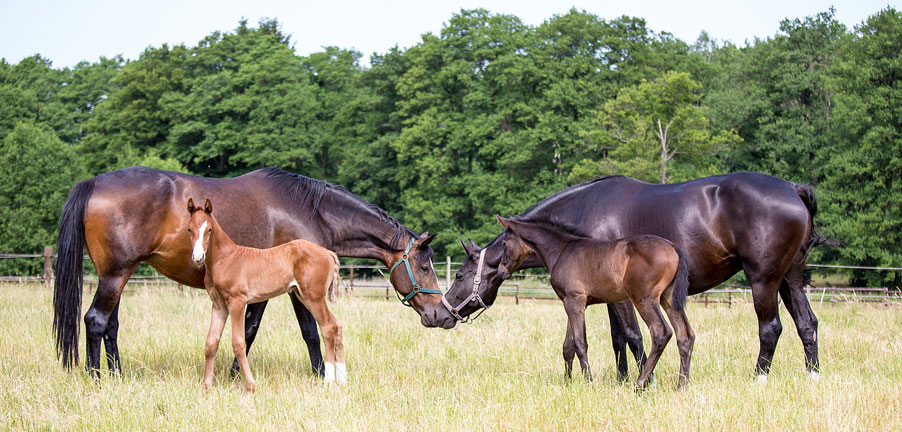 Our aim:
training horses
under OPTIMUM conditions
A diverse training program ensures varied sessions for the horses, improving their physical abilities as well as their mental stability.
Our therapy services provide targeted support for sport horses concerning regeneration and rehabilitation
Andrea Engeler-Bading has successfully established herself as a dressage rider at international level with horses which she has bred herself. Horses trained by her can be found regularly in the front line-up at competitions, ridden by their owners.
Andrea Engeler-Bading and her team
Andrea Engeler-Bading, Pferdewirtschaftsmeisterin (horse management expert), FN-Bewegungstrainerin EM (movement instructor according to Eckart Meyners method), BKR (biomechanically correct riding) seat trainer and horse physio therapist; competes successfully in dressage up to Grand Prix level and in show jumping up to advanced level (S). Following years of training in all fields of equestrian sport and horse breeding, she has been running Hof Fehmbusch for many years now. This extensive, modern, breeding and training facility also includes a therapy/rehabilitation centre for horses and is located close to the 'Riding Mecca' of Luhmühlen. Andrea Engeler-Bading is supported by many experienced employees who have been working for her for a long time, as well as her own family.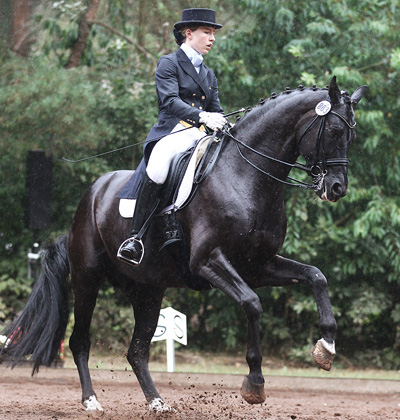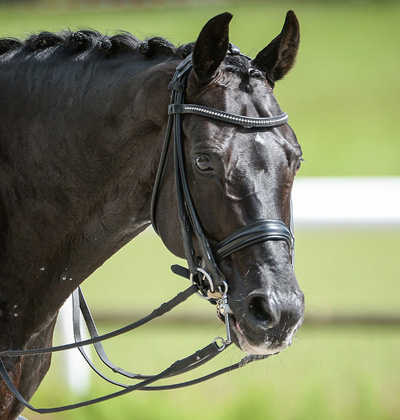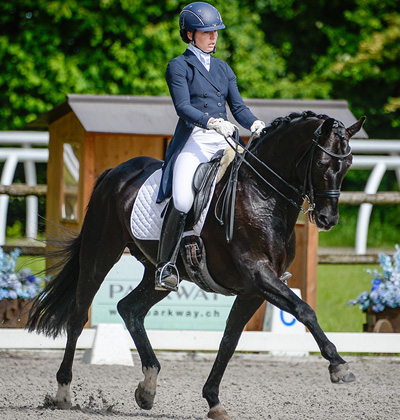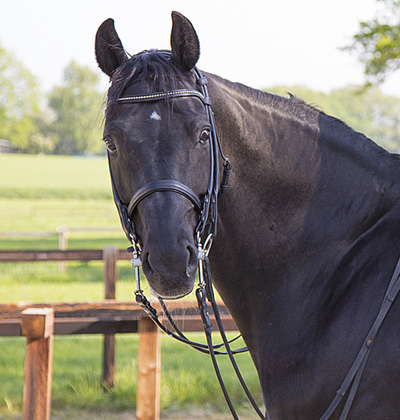 Dressage sire
San Remo OLD
Oldenburger black stallion
Sandro Hit x Donnerhall x Frühwind
Born: 2001
Height: 170 cm
Colour: Rappe
WFFS-State: negative
Available as frozen semen • covering fee 1000 Euro
(Storage and delivery of the frozen semen by the Lower Saxony State Stud in Celle | Breeder: Gernot Reinhardt, Bad Düben, Germany)
San Remo OLD is one of the world's best dressage sires
Estimated breeding value WBFSH 2018 - 2021 constantly ranked in the Top 25
San Remo's quality of movement, his type and radiance comply fully with all expectations in a modern dressage horse. Successful progeny such as world team champion Sammy Davis jr. or the internationally renowned San Royal are clear evidence of this. And, quite particularly, also Sanceo as a highlight of the Olympic dressage competitions in Tokyo.
His own successes, for example ridden by Susan Pape in world championships and the German Federal Championships for five- and six-year-old dressage horses still remain vivid memories today.
Three outstanding basic gaits, combined with excellent riding qualities, a well-balanced nature and the radiance of a champion are evidence of his exceptional quality and make him a truly superlative stallion. He has passed on his type and quality of movement to his progeny. Calmness and friendliness are his characteristic features.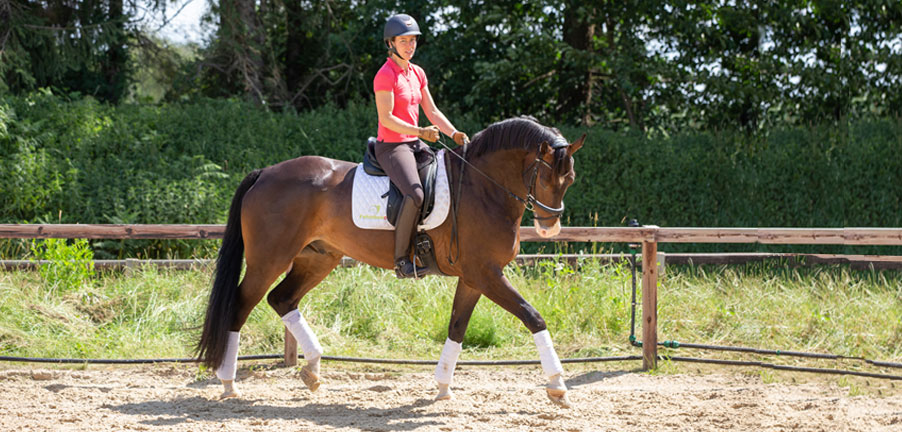 Range of services
Sales of talented dressage horses
Breeding and rearing
Systematic training of young horses
Training of remontes and advanced horses
Presentation at competitions
Professional riding lessons and courses for all performance levels
National and international placement of horses with new owners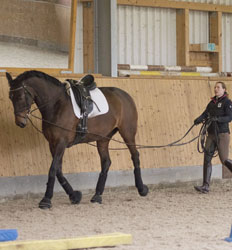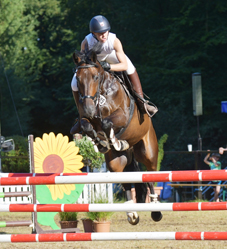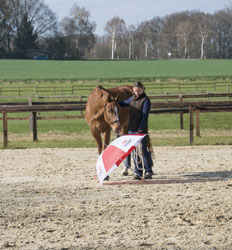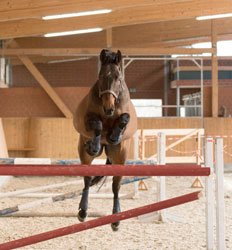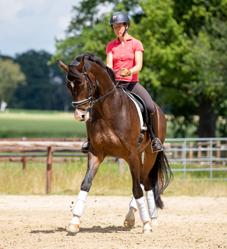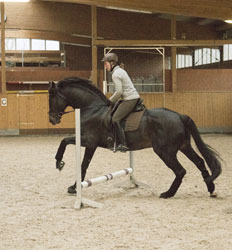 Training of horse and rider at HOF FEHMBUSCH
Horse and rider progress together
Our objective is individual, gentle and age-appropriate training for the riding horse. Maintaining the horses' health is a substantial part of our training philosophy. A diverse training program ensures varied sessions for the horses, improving their physical abilities as well as their mental stability. The horses at Hof Fehmbusch have experienced human contact from day one and have access to pasture/paddock space for free movement throughout the entire year. The focus of our equestrian training is on a sustainable collaboration between horse and rider. An important basis of this is the correctly balanced seat. Our aim:
Healthy horses through sustainable training and riding
Contact / Partner
Hof Fehmbusch

Andrea Engeler - Bading
Fehmbusch
DE-21376 Eyendorf
Show on Google Maps →

E-Mail: fehmbusch@t-online.de
E-Mail: fehmbusch@datazug.ch

Tel: +49 (0)160-94146750
Tax no. 50/242/06483
Partner
Despite careful control of the content, we accept no liability for the content of external links. The operators of the linked pages are solely responsible for their content. At the time of linking, no questionable content could be found.